Until MSWorld's 18th Birthday
Welcome to MSWorld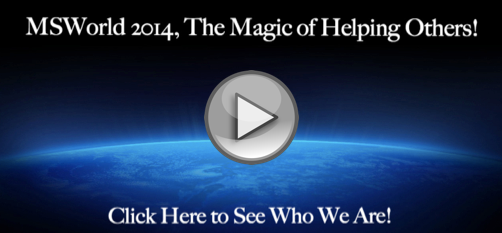 PLEASE CLICK ON THE GRAPHIC TO VIEW VIDEO
This video is a story about 6 people meeting for support online in 1996.
18 years later MSWorld is the largest patient run MS website in the world, with 100,000 members and growing. Our volunteers all live with MS and together we are changing the way people live with MS, worldwide.
The music composition on this video is by an up and coming composer Jasper Freedom. His work is worthy of applause!
jasperfreedommusic@gmail.com
Please share our message with your family and friends.
We need your help! Thank you!
---
We've come together from around the world to help each other cope with the challenges of living with Multiple Sclerosis.
"Together we grow personally and collectively while creating a current and vital organization. Each day is an opportunity to set a new level of excellence for patient support, unmatched by any other."
"Wellness is a State of Mind" and together we create a better day.
Kathleen Wilson MA, MFA
President
MSWorld, Inc.
The Consortium of Mulitple Sclerosis Centers
2014 Annual Meeting
For all MSWorld coverage on CMSC, Click Here
News From Around the World (RSS)
10 hours 33 min ago

1 day 18 hours ago

2 days 8 hours ago

2 days 9 hours ago

2 days 10 hours ago

2 days 16 hours ago

2 days 18 hours ago

3 days 21 hours ago

5 days 8 hours ago

5 days 9 hours ago

6 days 2 hours ago

6 days 7 hours ago

6 days 17 hours ago

1 week 8 hours ago

1 week 10 hours ago